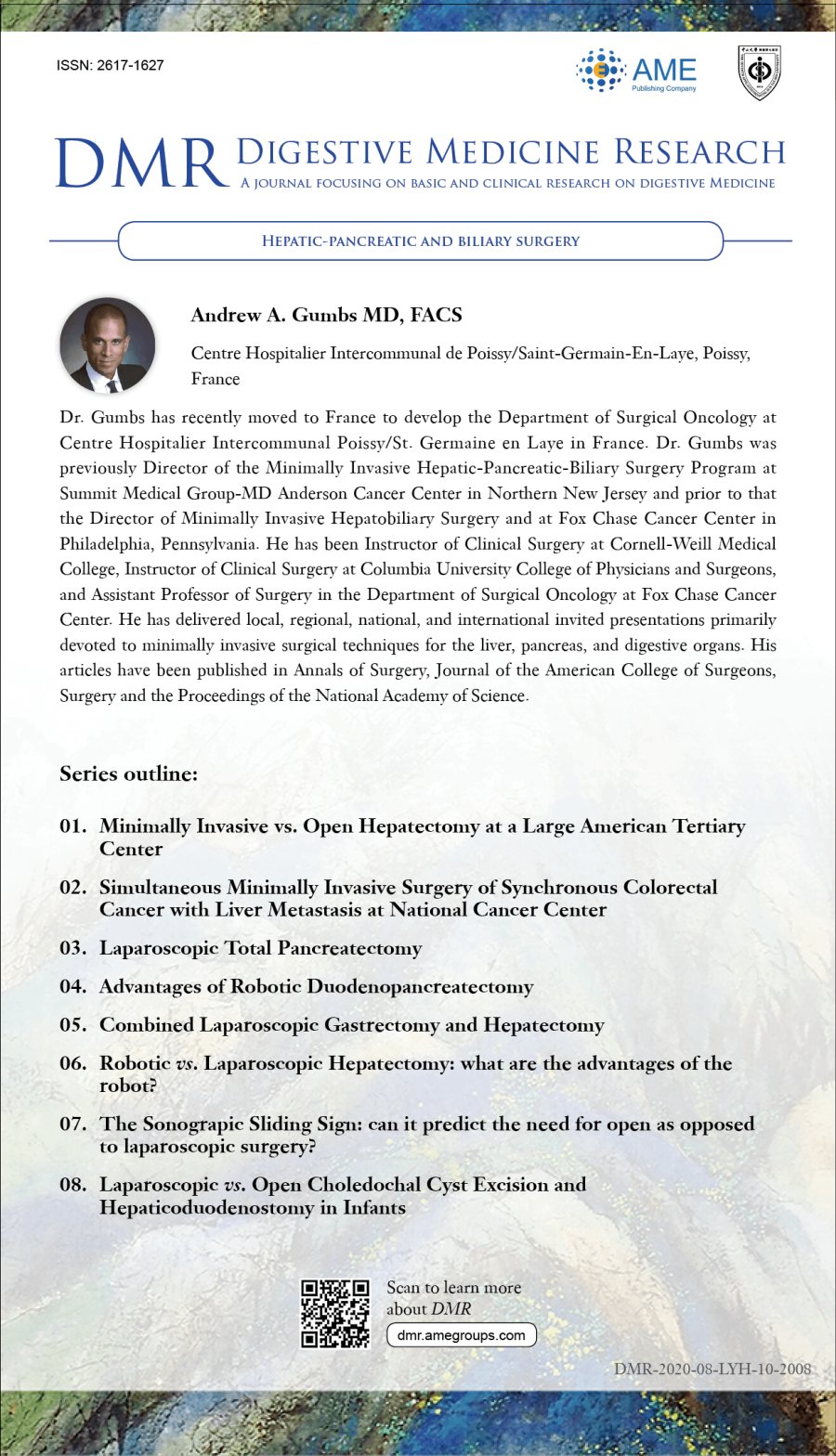 This special series on "Hepatic, pancreatic and biliary surgery" is guest edited by Dr. Andrew A. Gumbs from Centre Hospitalier Intercommunal de Poissy/Saint-Germain-En-Laye, Poissy, France.
Dr. Gumbs has recently moved to France to develop the Department of Surgical Oncology at Centre Hospitalier Intercommunal Poissy/St. Germaine en Laye in France. Dr. Gumbs was previously Director of the Minimally Invasive Hepatic-Pancreatic-Biliary Surgery Program at Summit Medical Group-MD Anderson Cancer Center in Northern New Jersey and prior to that the Director of Minimally Invasive Hepatobiliary Surgery and at Fox Chase Cancer Center in Philadelphia, Pennsylvania. He has been Instructor of Clinical Surgery at Cornell-Weill Medical College, Instructor of Clinical Surgery at Columbia University College of Physicians and Surgeons, and Assistant Professor of Surgery in the Department of Surgical Oncology at Fox Chase Cancer Center. He has delivered local, regional, national, and international invited presentations primarily devoted to minimally invasive surgical techniques for the liver, pancreas, and digestive organs. His articles have been published in Annals of Surgery, Journal of the American College of Surgeons, Surgery and the Proceedings of the National Academy of Science.
Series outline:
Minimally Invasive vs. Open Hepatectomy at a Large American Tertiary Center
Simultaneous Minimally Invasive Surgery of Synchronous Colorectal Cancer with Liver Metastasis at National Cancer Center
Laparoscopic Total Pancreatectomy
Advantages of Robotic Duodenopancreatectomy
Combined Laparoscopic Gastrectomy and Hepatectomy
Robotic vs. Laparoscopic Hepatectomy: what are the advantages of the robot?
The Sonograpic Sliding Sign: can it predict the need for open as opposed to laparoscopic surgery?
Laparoscopic vs. Open Choledochal Cyst Excision and Hepaticoduodenostomy in Infants
Disclosure:
The series "Hepatic, pancreatic and biliary surgery" was commissioned by the editorial office, Digestive Medicine Research without any sponsorship or funding. Andrew A. Gumbs is serving as the unpaid Guest Editor for the series.