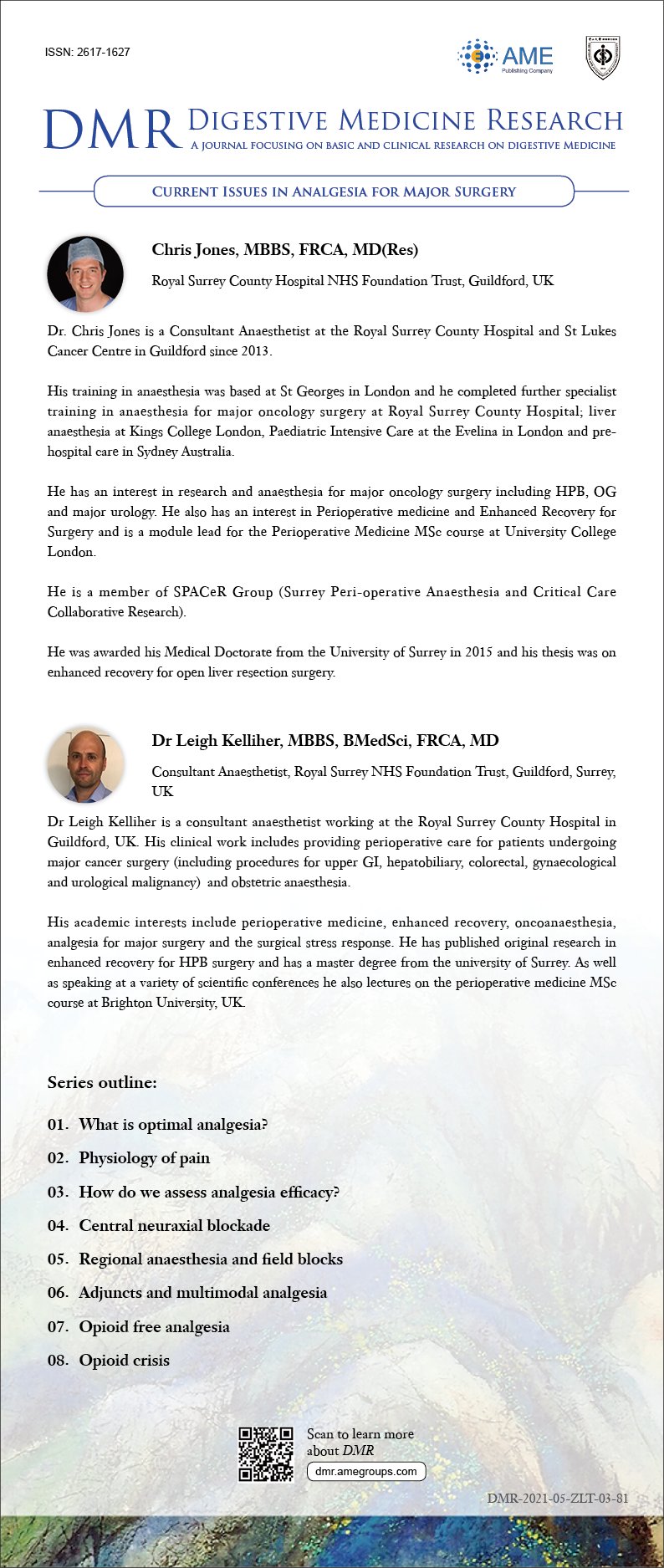 This series on "Current Issues in Analgesia for Major Surgery" is edited by Dr. Chris Jones and Dr. Leigh Kelliher. The main purpose of this series is to explore how pain management has changed over the last few years. Including how anaesthetists have moved away from the traditional 'gold standard' thoracic epidural towards trunk field blocks such as rectus sheath blocks. The series will also explore how the 'functional' aspect of pain assessment is more important than the traditional VAS scoring. It will also explore the origins of the current worldwide opioid crisis and how this has led to an interest in opioid free analgesia for major surgery.
Chris Jones, MBBS, FRCA, MD(Res)
Royal Surrey County Hospital NHS Foundation Trust, Guildford, UK
Dr. Chris Jones is a Consultant Anaesthetist at the Royal Surrey County Hospital and St Lukes Cancer Centre in Guildford since 2013.
His training in anaesthesia was based at St Georges in London and he completed further specialist training in anaesthesia for major oncology surgery at Royal Surrey County Hospital; liver anaesthesia at Kings College London, Paediatric Intensive Care at the Evelina in London and pre-hospital care in Sydney Australia.
He has an interest in research and anaesthesia for major oncology surgery including HPB, OG and major urology. He also has an interest in Perioperative medicine and Enhanced Recovery for Surgery and is a module lead for the Perioperative Medicine MSc course at University College London.
He is a member of SPACeR Group (Surrey Peri-operative Anaesthesia and Critical Care Collaborative Research).
He was awarded his Medical Doctorate from the University of Surrey in 2015 and his thesis was on enhanced recovery for open liver resection surgery.
Dr Leigh Kelliher, MBBS, BMedSci, FRCA, MD
Consultant Anaesthetist, Royal Surrey NHS Foundation Trust, Guildford, Surrey, UK
Dr Leigh Kelliher is a consultant anaesthetist working at the Royal Surrey County Hospital in Guildford, UK. His clinical work includes providing perioperative care for patients undergoing major cancer surgery (including procedures for upper GI, hepatobiliary, colorectal, gynaecological and urological malignancy) and obstetric anaesthesia.
His academic interests include perioperative medicine, enhanced recovery, oncoanaesthesia, analgesia for major surgery and the surgical stress response. He has published original research in enhanced recovery for HPB surgery and has a master degree from the university of Surrey. As well as speaking at a variety of scientific conferences he also lectures on the perioperative medicine MSc course at Brighton University, UK.
Series outline:
What is optimal analgesia?
Physiology of pain
How do we assess analgesia efficacy?
Central neuraxial blockade
Regional anaesthesia and field blocks
Adjuncts and multimodal analgesia
Opioid free analgesia
Opioid crisis
Disclosure:
The series "Current Issues in Analgesia for Major Surgery"was commissioned by the editorial office, Digestive Medicine Research (DMR) without any sponsorship or funding. Chris Jones and Leigh Kelliher served as the unpaid Guest Editors for the series.