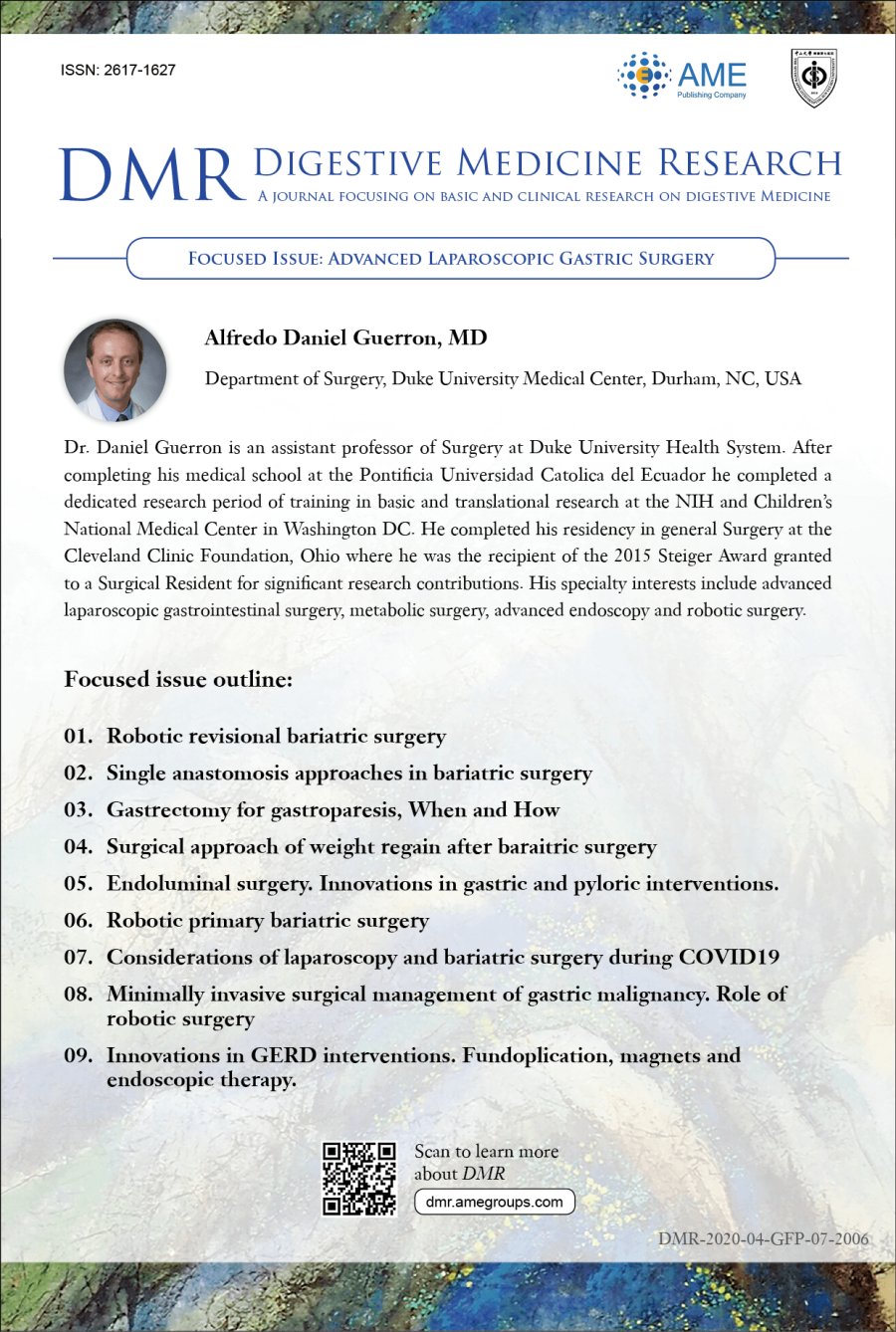 This focused issue on "Advanced Laparoscopic Gastric Surgery" is edited by Dr. Alfredo Daniel Guerron, from Department of Surgery, Duke University Medical Center, Durham, NC, USA.
Dr. Daniel Guerron is an assistant professor of Surgery at Duke University Health System. After completing his medical school at the Pontificia Universidad Catolica del Ecuador he completed a dedicated research period of training in basic and translational research at the NIH and Children's National Medical Center in Washington DC. He completed his residency in general Surgery at the Cleveland Clinic Foundation, Ohio where he was the recipient of the 2015 Steiger Award granted to a Surgical Resident for significant research contributions. His specialty interests include advanced laparoscopic gastrointestinal surgery, metabolic surgery, advanced endoscopy and robotic surgery.
Focused issue outline:
Robotic revisional bariatric surgery
Single anastomosis approaches in bariatric surgery
Gastrectomy for gastroparesis, When and How
Surgical approach of weight regain after baraitric surgery
Endoluminal surgery. Innovations in gastric and pyloric interventions.
Robotic primary bariatric surgery
Considerations of laparoscopy and bariatric surgery during COVID19
Minimally invasive surgical management of gastric malignancy. Role of robotic surgery
Innovations in GERD interventions. Fundoplication, magnets and endoscopic therapy
Disclosure:
The series "Advanced Laparoscopic Gastric Surgery" was commissioned by the editorial office, Digestive Medicine Research without any sponsorship or funding. Alfredo Daniel Guerron is serving as the unpaid Guest Editor for the series.