Review Article
Diagnostic and predictive biomarkers for Barrett's esophagus: a narrative review
Introduction
Barrett's esophagus (BE) is widely recognized as the precursor lesion for esophageal adenocarcinoma (EAC) (1). The importance of EAC lies in its 6-fold rising incidence over the past 40 years, and its dismal prognosis with the 5-year survival estimated to be only 10–15% (2,3). Because of the poor prognosis of EAC, its mainstay of management remains early detection and treatment of its precursor lesions, namely BE and its associated dysplasia. BE is a metaplastic alteration that the squamous epithelial cells in the lower esophagus have been replaced by the columnar epithelium with goblet cells (4). BE associated dysplasia has been divided into three stages which are classified as non-dysplastic BE (NDBE), low-grade dysplasia (LGD), and high-grade dysplasia (HGD) (5). It is noteworthy that BE and its associated dysplasia may predispose to EAC with an annual risk of 0.1–0.5% (6,7). In this review, we will describe the pathological characteristics of BE and its associated neoplasia, discuss the biomarkers that are relevant in the diagnosis, prediction of progression of BE, and propose the possible future applications of these biomarkers.
We present the following article in accordance with the narrative review checklist (available at http://dx.doi.org/10.21037/dmr-20-143).
---
Pathological characteristics of BE and its related neoplasia
Classically, Barrett epithelium is comprised of columnar epithelial cells in the surface and crypt, with an indefinite number of goblet cells, intestinal epithelial cells, Paneth cells, endocrine cells, and intermediate cells scattered among them (8). The malignant transformation of BE is a dynamic process, with each histopathologic stage from NDBE to LGD, HGD, and EAC accompanied by increasingly severe pathological alterations (5). Generally speaking, the pathological abnormalities in LGD are relatively mild and mostly confined to the base of crypts (9). The esophageal epithelium cells become longer, more crowded, with loss of their polarity, and exhibit an increasing cytoplasm volume ratio of the nucleus (10). Compared with LGD, the pathological alterations of HGD are more pronounced, with marked loss of cell polarity, and the crypts appearing branched, crowded, and having a sieve shape (11). Concurrent with the proliferation and replication of the esophageal cells in BE and its related neoplasia, the process of apoptosis is inhibited, and these alterations in the structure of esophageal tissue establish a tumor microenvironment, and trigger an immune response, which in turn induce changes in the biomarkers of the esophageal cells.
The conventional pathological staining for the diagnosis of BE is hematoxylin and eosin (H&E) staining, although ancillary stains, such as Alcian blue and periodic acid Schiff stains, have been also used to aid in the diagnosis of BE (12). In addition, immunohistochemical staining with certain biomarkers, which will be elaborated later, can effectively help in the diagnosis of BE, and prediction of its progression to neoplasia.
---
Diagnostic biomarkers of BE
In the diagnosis of BE, there are a number of biomarkers that have been studied, and these include TFF3, PCNA, miRNA, EGFR, COX2, cMYC, HER2/ErbB2, NF-κB, Bcl-2, VEGF, E-cadherin, β-catenin, and glycoproteins (13-15). As TFF3 and miRNA are better studied, these will be further discussed below (16).
TFF3 is a protein that is typically expressed on the mucosal surface of columnar epithelium in the stomach and intestine. TFF3 functions to promote the secretion of mucus in the columnar epithelium and accelerate the healing of the mucosal injury. One study has shown that the level of TFF3 expressed in BE tissue is significantly higher (P<0.001) than that of normal esophageal and gastric mucosae (17). Based on the 78% sensitivity and the 94% specificity of TFF3 expression in BE tissue, TFF3 is thought to be a promising biomarker for diagnosing BE (17).
MiRNAs, for example, microRNA 192, 194, 203, 205, and 215, and methylated genes, including TFPI2, TWIST1, ZNF345, and ZNF569, are also promising biomarkers for the diagnosis of BE (18). In one study, the gene TFPI2 was found to have a sensitivity of 82.2% and specificity of 95.7% for the diagnosis of BE (19).
The combination of TNF-α, CX3CL1, and IP-10 can effectively predict the occurrence of BE. If TNF-α ≥6 pg/mL, CX3CL1 ≥250 mg/mL, and IP-10 ≥290 pg/mL, the OR (95% CI) of predicting the presence of BE was shown to be 3.84 (1.23–12.03), 3.42 (1.18–9.96), and 4.47 (1.45–13.84), respectively (20).
---
Biomarkers that predict neoplastic progression and prognosis of BE
Although BE is the most important risk factor for the development of EAC, the estimated risk of progression from BE to EAC is only 0.12% per annum (5). As it is not possible clinically to predict which BE will progress to neoplasia, and which will not progress to neoplasm, it may be prudent for clinicians to rely upon biomarkers to select those who are at risk for more intensive surveillance and if warranted pre-emptive treatment. Indeed, a number of biomarkers with the potential to predict the early presence and progression of Barrett's related neoplasia have been studied, and these will be discussed further below.
Predictive biomarkers generally come in 3 forms: proteins, microRNA, and lncRNA (Table 1). p53 is one of the most studied proteins. It is recommended by major society guidelines as a risk stratification tool for BE (3). One seminal study confirmed p53 as a clinically pertinent predictor of neoplastic progression of BE, showing the overall OR for intense overexpression of p53 in NDBE, and LGD to be 6.1, and 8.6, respectively (21). Cyclin A has also been considered as a reliable predictive biomarker for neoplastic progression. Its overall OR for predicting neoplastic progression in BE patients is estimated at 1.9 (22). cMYC is part of the cell proliferation promoting MYC gene family, and therefore can accelerate cancer formation. Research has confirmed that increased expression of cMYC runs through the spectrum of neoplastic progression of BE, from NDBE, to LGD, HGD, and EAC (23). HER2/ErbB2 belongs to the tyrosine kinase receptor that regulates cell proliferation, differentiation, and survival. The positive expression of the HER2 gene has been estimated to be 24% in BE, and 17%-26% in EAC, respectively (24,25). In addition, EAC patients with BE are twice more likely to be HER2/ErbB2 positive than EAC patients without BE (25). Ki-67 is a nuclear protein that is associated with cellular proliferation. It has the ability to predict the neoplastic progression of BE. The expression pattern of Ki-67 in esophageal tissues has been found to be different as the NDBE progresses to EAC (26). For example, in HGD tissue, Ki-67-positive nuclei are mainly located on the surface of the esophageal mucosal epithelium and the upper crypt, while Ki-67-positive nuclei are mainly located on the lower crypt in LGD esophagus tissue (27).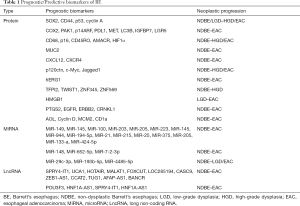 Table 1
Prognostic/Predictive biomarkers of BE
Full table
During the malignant transformation of BE, microRNA expression appeared to be up-regulated or down-regulated (28). The up-regulation of miRNA expression is mainly concentrated in microRNA-205, 203, 133-a, 21, 25, and 223, while down-regulation occurs mainly in microRNA-375 (29). These markers, together with microRNA 100, 145, 148, 149, 199a-5p, 29c-3p, 27b, 126, and 143 have been proposed as potentially useful prognostic biomarkers (26,30,31). In other studies, higher expression of microRNA-192, 194, 196a, and 196b are observed in BE patients with progression to EAC than those who do not progress to EAC (32).
In addition to microRNA, lncRNA SPRY4-IT1, TUG1, POU3F3, HNF1A-AS1, and MALAT1 have also been proposed to indicate the neoplastic progression in BE patients (33-35).
The telomere is a region of repetitive nucleotide sequences at the end of a chromosome that protects the end of the chromosome from degradation. It has been shown that activated telomerase is closely related to the survival of tumor cells, and the activity of telomerase increases with the development of dysplasia. During the malignant transformation of BE, telomerase is composed of two subunits, TERT (coding telomerase reverse transcriptase) and TERC (noncoding telomerase RNA), which provide the template for synthesis and extension of telomeres (36). In a prospective study, the risk of EAC could be predicted based on the length of white blood cell telomeres in the blood samples of BE patients, with the hazard ratio estimated to be 3.45 (95% CI, 1.35–8.78) (32). Other novel predictive biomarkers, such as lipocalin-2, S100A9, matrix metallopeptidase 12, and aneuploidy, have recently been confirmed to be highly expressed during the malignant transformation of BE, but more clinical data are needed to verify their usefulness (26,37).
---
Conclusions
With the advent of DNA sequencing technology and artificial intelligence, new biomarkers to help diagnose BE and predict its progression to neoplasia are increasingly been discovered. The clinical application of these emerging biomarkers will need to be validated by clinical trials. The ultimate goal is for these biomarkers to serve as important tools for clinicians to make an accurate diagnosis of BE, early diagnosis and eradication of BE-related neoplasia, and risk stratify the risk lesions so that they can benefit from intensive surveillance, and pre-emptive treatment.
---
Acknowledgments
Funding: None.
---
Footnote
Reporting Checklist: The authors have completed the narrative review checklist. Available at http://dx.doi.org/10.21037/dmr-20-143
Conflicts of Interest: All authors have completed the ICMJE uniform disclosure form (available at http://dx.doi.org/10.21037/dmr-20-143). KYH serves as an unpaid editorial board member of Digestive Medicine Research from Jul 2020 to Jun 2022. The other authors have no conflicts of interest to declare.
Ethical Statement: The authors are accountable for all aspects of the work in ensuring that questions related to the accuracy or integrity of any part of the work are appropriately investigated and resolved.
Open Access Statement: This is an Open Access article distributed in accordance with the Creative Commons Attribution-NonCommercial-NoDerivs 4.0 International License (CC BY-NC-ND 4.0), which permits the non-commercial replication and distribution of the article with the strict proviso that no changes or edits are made and the original work is properly cited (including links to both the formal publication through the relevant DOI and the license). See: https://creativecommons.org/licenses/by-nc-nd/4.0/.
---
References
doi: 10.21037/dmr-20-143
Cite this article as: Di J, Zhang J, Ho KY. Diagnostic and predictive biomarkers for Barrett's esophagus: a narrative review. Dig Med Res 2021;4:8.