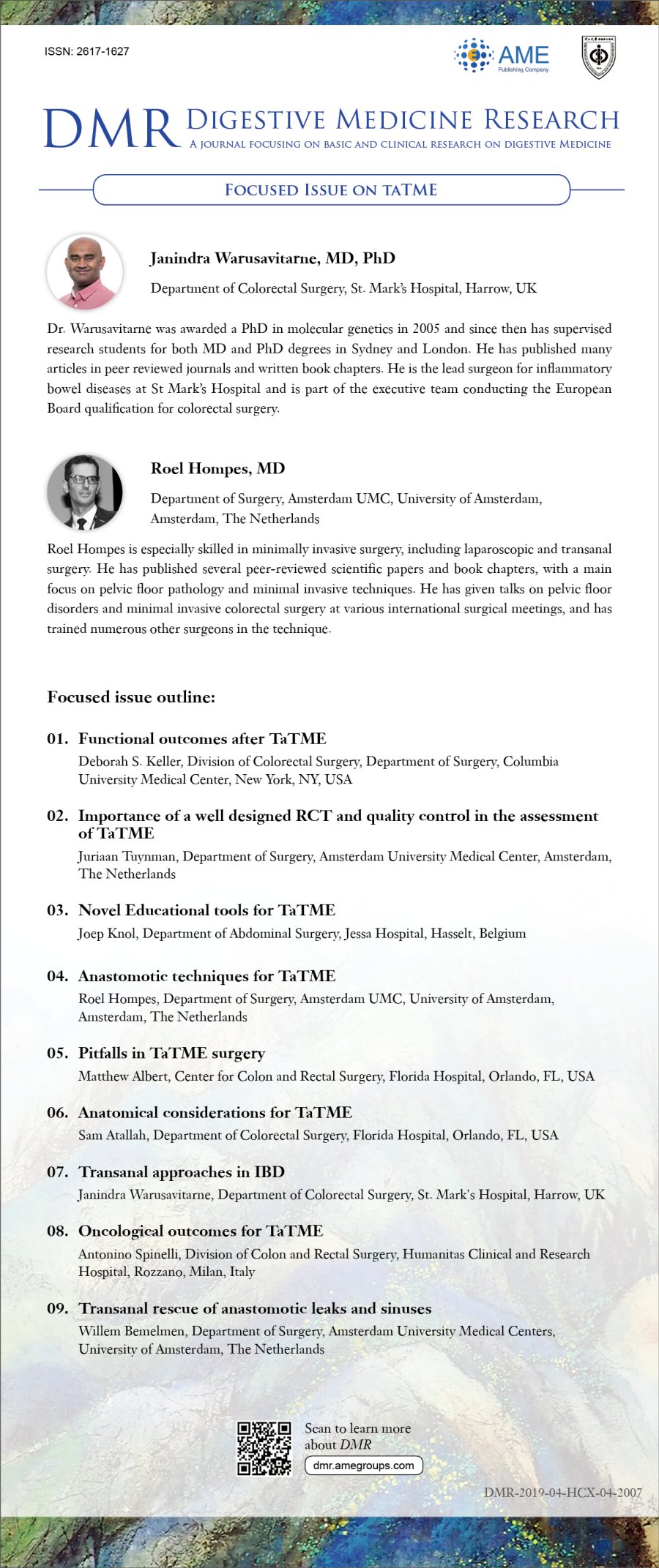 This focused issue on "TaTME" is edited by Dr. Janindra Warusavitarne, from Department of Colorectal Surgery, St. Mark's Hospital, Harrow, UK, and Dr. Roel Hompes, from Department of Surgery, Amsterdam UMC, University of Amsterdam, Amsterdam, The Netherlands.
Dr. Janindra Warusavitarne was awarded a PhD in molecular genetics in 2005 and since then has supervised research students for both MD and PhD degrees in Sydney and London. He has published many articles in peer reviewed journals and written book chapters. He is the lead surgeon for inflammatory bowel diseases at St Mark's Hospital and is part of the executive team conducting the European Board qualification for colorectal surgery.
Dr. Roel Hompes is especially skilled in minimally invasive surgery, including laparoscopic and transanal surgery. He has published several peer-reviewed scientific papers and book chapters, with a main focus on pelvic floor pathology and minimal invasive techniques. He has given talks on pelvic floor disorders and minimal invasive colorectal surgery at various international surgical meetings, and has trained numerous other surgeons in the technique.
Focused issue outline:

Functional outcomes after TaTME
Deborah S. Keller, Division of Colorectal Surgery, Department of Surgery, Columbia University Medical Center, New York, NY, USA
Importance of a well designed RCT and quality control in the assessment of TaTME
Juriaan Tuynman, Department of Surgery, Amsterdam University Medical Center, Amsterdam, The Netherlands
Novel Educational tools for TaTME
Joep Knol, Department of Abdominal Surgery, Jessa Hospital, Hasselt, Belgium
Anastomotic techniques for TaTME
Roel Hompes, Department of Surgery, Amsterdam UMC, University of Amsterdam, Amsterdam, The Netherlands
Pitfalls in TaTME surgery
Matthew Albert, Center for Colon and Rectal Surgery, Florida Hospital, Orlando, FL, USA
Anatomical considerations for TaTME
Sam Atallah, Department of Colorectal Surgery, Florida Hospital, Orlando, FL, USA
Transanal approaches in IBD
Janindra Warusavitarne, Department of Colorectal Surgery, St. Mark's Hospital, Harrow, UK
Oncological outcomes for TaTME
Antonino Spinelli, Division of Colon and Rectal Surgery, Humanitas Clinical and Research Hospital, Rozzano, Milan, Italy
Transanal rescue of anastomotic leaks and sinuses
Willem Bemelmen, Department of Surgery, Amsterdam University Medical Centers, University of Amsterdam, The Netherlands