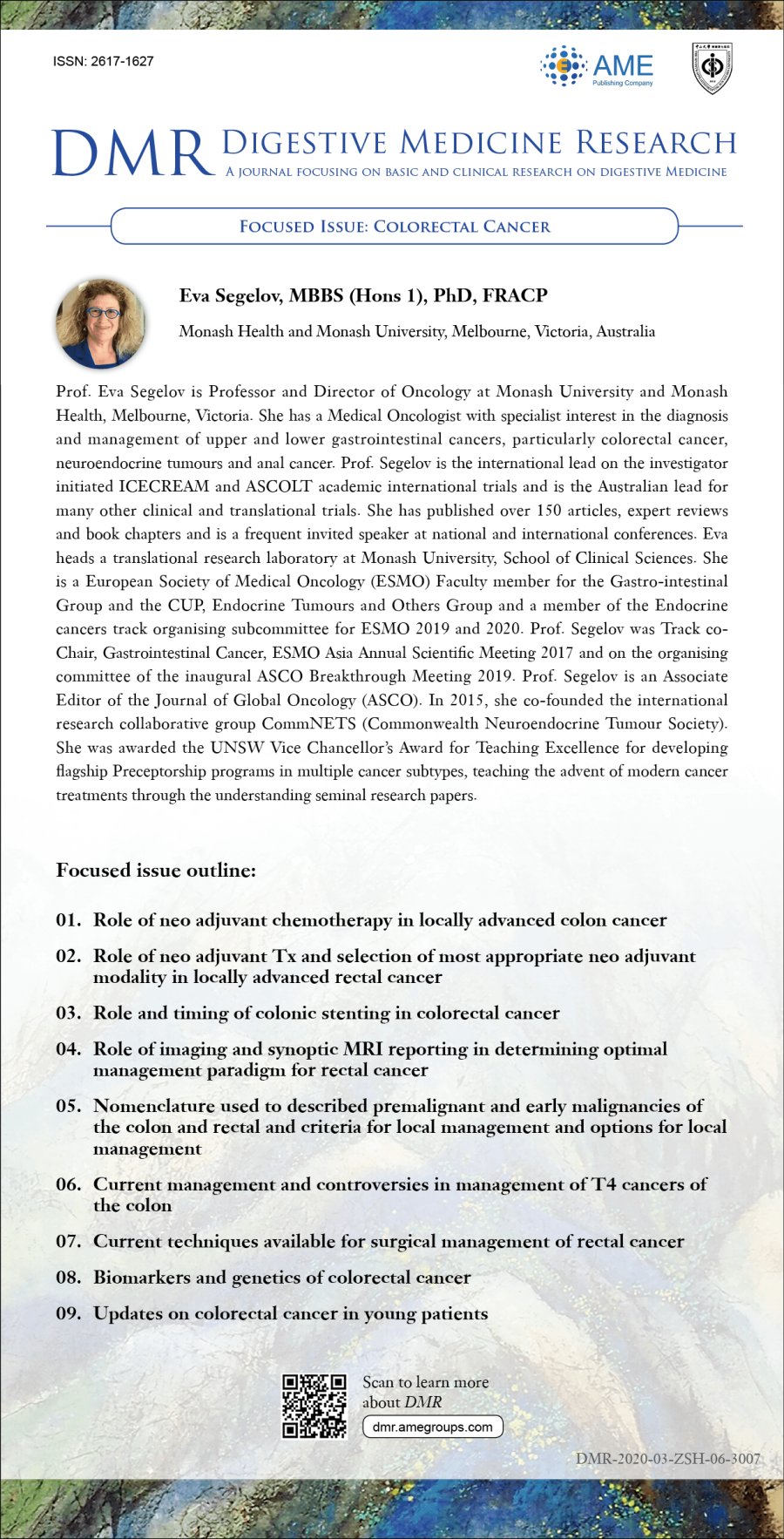 This focused issue on "Colorectal Cancer" is edited by Dr. Eva Segelov, from Monash Health and Monash University, Melbourne, Victoria, Australia.
Prof. Eva Segelov is Professor and Director of Oncology at Monash University and Monash Health, Melbourne, Victoria. She has a Medical Oncologist with specialist interest in the diagnosis and management of upper and lower gastrointestinal cancers, particularly colorectal cancer, neuroendocrine tumours and anal cancer. Prof. Segelov is the international lead on the investigator initiated ICECREAM and ASCOLT academic international trials and is the Australian lead for many other clinical and translational trials. She has published over 150 articles, expert reviews and book chapters and is a frequent invited speaker at national and international conferences. Prof. Segelov heads a translational research laboratory at Monash University, School of Clinical Sciences. She is a European Society of Medical Oncology (ESMO) Faculty member for the Gastro-intestinal Group and the CUP, Endocrine Tumours and Others Group and a member of the Endocrine cancers track organising subcommittee for ESMO 2019 and 2020. Prof. Segelov was Track co-Chair, Gastrointestinal Cancer, ESMO Asia Annual Scientific Meeting 2017 and on the organising committee of the inaugural ASCO Breakthrough Meeting 2019. Prof. Segelov is an Associate Editor of the Journal of Global Oncology (ASCO). In 2015, she co-founded the international research collaborative group CommNETS (Commonwealth Neuroendocrine Tumour Society). She was awarded the UNSW Vice Chancellor's Award for Teaching Excellence for developing flagship Preceptorship programs in multiple cancer subtypes, teaching the advent of modern cancer treatments through the understanding seminal research papers.
Focused issue outline:
Role of neo adjuvant chemotherapy in locally advanced colon cancer
Role of neo adjuvant Tx and selection of most appropriate neo adjuvant modality in locally advanced rectal cancer
Role and timing of colonic stenting in colorectal cancer
Role of imaging and synoptic MRI reporting in determining optimal management paradigm for rectal cancer
Nomenclature used to described premalignant and early malignancies of the colon and rectal and criteria for local management and options for local management
Current management and controversies in management of T4 cancers of the colon
Current techniques available for surgical management of rectal cancer
Biomarkers and genetics of colorectal cancer
Updates on colorectal cancer in young patients
Disclosure:
The series "Colorectal Cancer" was commissioned by the editorial office, Digestive Medicine Research without any sponsorship or funding. Eva Segelov is serving as the unpaid Guest Editor for the series.